Mesin Ketok Nomor Chassis
Mesin ketok chassis portabel e1 p63c, sangat cocok untuk digunakan dengan komponen berat atau berukuran besar
Mesin ketok chassis portabel e1P63C
Mesin ketok chassis portabel e1 p63c, sangat cocok untuk digunakan dengan komponen berat atau berukuran besar. Berkat desainnya yang portabel dan ringkas, alat ini mudah masuk ke tempat-tempat yang sulit diakses. Desain pegangan dan pelat belakang yang ergonomis menghasilkan mesin yang kokoh dan seimbang yang cocok untuk pengoperasian jangka panjang karena mengurangi kelelahan pengguna.
Mesin ketok atau Dot Peen p63c digerakkan oleh teknologi elektromagnetik yang menggerakkan stylus karbida tungsten ke dalam bahan permukaan plat besi. Dikenal karena kualitasnya yang tinggi, tanda yang dalam, mesin penanda dot peen ini sangat cocok untuk membuat kode matriks data. Mampu menandai hampir semua bahan yang dikenal manusia, rakitan stylus yang presisi dan kuat memungkinkan penandaan yang dalam dan tajam, sedangkan bagian penanda yang besar (60 x 25 mm) memungkinkan penandaan karakter yang tinggi dan mudah dibaca.
Lebar Pengetukan: 60 x 25 mm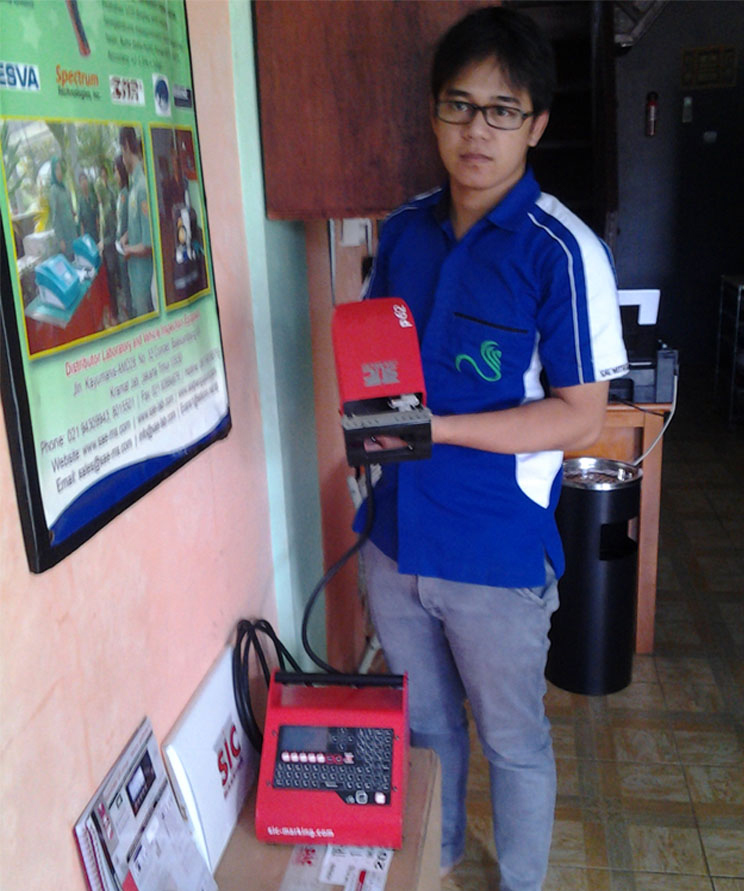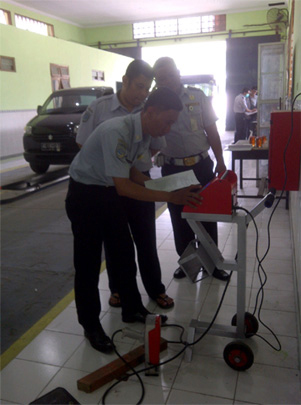 Features :
Pengontrol e1 SIC Marking secara mandiri mengoperasikan dan mengelola mesin penandaan ini, artinya tidak diperlukan PC untuk pengoperasian. Pengaturan awal dapat dilakukan dari PC menggunakan perangkat lunak e1v1, sedangkan port USB memungkinkan transfer file dan penandaan pembaruan perangkat lunak.
e1 dirancang dengan kokoh untuk aplikasi industri automotive dan industria lainnya. Dengan kemasan yang baik tidak komponen ventilasi yang memberikan perlindungan optimal untuk komponen elektronik interior. Berkat pegangan aluminiumnya yang besar dan peredam getaran, sehingga pegangannya lebih nyaman daripada desain sebelumnya. Layar warna HD menampilkan tampilan grafik terintegrasi, membuatnya mudah difungsikan. Dengan keyboard membran yang dilindungi, serta pemograman lebih mudah dan sederhana: e1 memungkinkan perubahan langsung pengaturan dan desain pengtukan melalui input manual, atau warna piktogram. Display kontrol yang portable sehingga dapat ditempatkan dimana saja dan hanya berbobot 2kg berikut dengan unit pengtukannya.
Dimensions: 301 x 121 x 87 mm
Weight: 2 kg
HD Color Screen: 95 x 54 mm
Keyboard: Integrated
Power: 100W
Supply: 100 to 240 VAC, 50/60 Hz
Technical Feature
Marking Files: Up to 20,000
Memory: 100 Mb
Variable: Alphanumerical, Serial, Date, Barcode, and Logos
Marking Files: Upload/Download From a USB Key
Fonts: Courier, 4 x 6, OCR-Bold, OCRA, and OCR
Marking Type: Linear, Radial, Angular, Datamatrix, and Logo
Speed: Up to 2.5 Characters per Second
Character size: 1 mm (minimum)
Impact Force: 1 - 9 Levels
Depth: Up to 0.3 mm
Resolution Between Dots: 0.05 mm
Comm Port: USB and Jack
Kits perawatan tambahan berisi suku cadang pengganti yang paling umum untuk perbaikan atau perawatan preventif, memperpanjang masa pakai alat yang lebih rutin.
Benefits :
Dot peen stylus assembly (if dot peen machine)
Origin detector
Stylus
Spring mechanism
A set of drive belts (depending machine type)
Vaseline oil lubricant (to be ordered seperately)